Tour of the Carson Valley — Barbecue & Ice Cream Social
Will Not be Produced in 2018
Tour of the Carson Valley – Barbecue & Ice Cream Social will not be produced in 2016 until we find an appropriate date to place this event.  It was traditionally set for the 3rd Sunday in June and as the calendar has it, it's Father's Day.  Last year we moved the event to the Saturday before Father's Day and rider participation was less than 50% of what we had been hosting.  Let us know if you would join us if we continue to produce this ride on FATHER'S DAY, Annually.
We invite you to continue to ride in the Carson Valley and will leave the below information posted for your convenience.  If you would like a map to ride these ride options, please email: registration@bikethewest.com
Tour of the Carson Valley is a fun historic bicycle tour for all abilities in the Beautiful Carson Valley. Pedal back in time on optional mileage routes taking recreational bicyclists along the eastern foot of the Sierra Nevada Mountains on former Pioneer, Pony Express, Stagecoach & Emigrant Wagon roadways. This ride is also the kick off to Summer and a Celebration of the Cycling Culture. All types of pedal bikes are welcomed from road bikes, mountain bikes, cruisers, fixed gear bikes and custom burning man bikes and more. A Fun Day of riding your bicycle and enjoying a social afternoon with bicycling friends.
Mormon Station State Park Website
Start – Finish: Mormon Station State Park, Genoa, NV
Located on Jack's Valley Road / Foothill Road & Genoa Lane / Hwy 758. Turn towards the mountains off Hwy 395 onto Genoa Lane / Hwy 758. There is limited parking at Mormon Station State Park and in the Town of Genoa. Please Car Pool or ride your bike to the start-finish. Please do not park in front of any of the businesses as your vehicle may be ticketed and towed. Parking monitors will assist in directing you to valid parking. Genoa is Nevada's First Settlement established in 1851, and served as a trading post for Pioneers and Miners heading west to the Goldfields of California and back east, to the Silver Mines of the Comstock Lode in Virginia City. The Pony Express Trail, Emigrating Pioneer Wagons as well as Stagecoaches all utilized these roadways. Tour of the Carson Valley offers the opportunity to ride you bike along this historic route.
All registered bicyclists will receive a Carson Valley Welcome Packet, Event Number, T-shirt & Water Bottle, Food/Snack & Beverage at Rest Stops, Technical Support at the Start – Finish as well as on the course, SAG Support, after ride Chicken Barbecue, Ice Cream & Live Entertainment.
You may also "Like" our Facebook Page to receive updates and information on the ride or to communicate with ride organizers and other friends that my be attending. www.facebook.com/bikelaketahoe.
Bicycling Tour Options:
NEW – 6 Mile Beginner Mountain Bike Ride:  If you are just starting out to want to learn how to ride a bicycle or mountain bike, this is the ride for you.  This ride option includes a Clinic on the "How To's" of Bicycling…  Tips on How To properly fit a Bicycle & Helmet, How To Ride Safely, How To Change a Flat Tire and more… This "How To" Clinic is followed by a Guided 6 mile ride on one of the newest Carson Valley trails.
11 mile Family Fun Ride: heads east on Genoa Lane to Highway 395 South, then west on Mueller to Foothill Road, and back to Genoa, to the Finish at Mormon Station State Park. (children – 10 yrs or older)
20 mile Bike/Hike Tour: heads south on Foothill Road passing many historic markers to a Rest Stop at the Faye-Luther Trailhead. This is a popular trailhead for hiking and horseback riding. Hiking is optional. If you want to combine bike riding with hiking this would be a great option and we would recommend wearing shoes that would accommodate both bicycling and hiking. The Carson Valley Trails Association sponsors the Rest Stop and will provide bicycle security and information about Hiking opportunities in the Carson Valley. Bicyclists will turn around and return to the Finish at Mormon Station State Park.
44 mile Tour of the Carson Valley: heads south on Foothill Road to Fredricksburg Road and climbs up Carson River Road to a Rest Stop at Woodfords Station, then around Diamond Valley Road and returns to the Finish at Mormon Station State Park.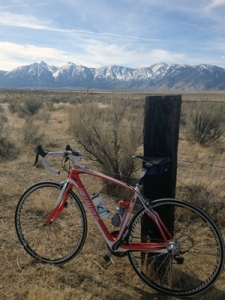 Continuing this year is a 60 mile course with the option to climb and descend Kingsbury Grade, Hwy. 207, one of the most spectacular climbs on the eastern side of the Sierra's offering an additional 2500 feet of Climbing.
This is one of the most popular bicycling routes departing from the Carson Valley. Bicyclists will pass many points of historic interest along this route from Walley's Hot Springs, to Old Kingsbury Grade, Van Sickle Station to the settlements of Mottsville, Sheridan, Fredricksburg and Woodfords Station on the Pony Express Trail. The Diamond Valley Road loop includes viewing historic markers in memorial for legendary "Snowshoe Thompson" who settled in Diamond Valley and was known to carry mail from Genoa over the Sierra's to Placerville and back on long wooden snow shoes (skis). The route also rides though "Hung-a-Lel-Te," Southern Band Washoe Tribe Reservation.
Pre-registered Rider Check-in / Same Day Registration:
Online Registration will close on Wednesday, June 17, then on-site / Late – Same Day registration will be available with late fees. Pre-Registered Rider Check-In and Late Registration will take place Friday, June 19, 2015, from 12:00 Noon until 8:00 p.m. at the Holiday Inn Express on Highway 395 and Highway 88 in Minden, Nevada. Holiday Inn Express is also offering special rate rooms in conjunction with Tour of the Carson Valley. Visit CarsonValleyHotel.com for information and reservations, or call (775) 782-7500 and ask for Tour of the Carson Valley Rates. Please Email Registration@BiketheWest.com if you intend to register late so we can plan for the barbecue.
Pre-Registered Rider Check-In and Late/Same Day Registration will take place the morning of the ride, Saturday, June 20 at Mormon Station State Park in Genoa, Nevada, from 8:00 a.m. until 9:30 a.m. $10 Late Fees will apply for Late/Same Day Registration. All participants will be required to sign an Accident and Release of Liability Waiver upon Check-In. Legal Guardians or Parents must sign for children. Children must be at least 10 years of age to participate in the ride and must be accompanied by an adult at all times. Your bicycle must be in good riding order and Bike Habitat & CV Sports will provide technical support. All participants are required to wear helmets and abide by the Rules of the Road.
Start Times:
• 44-60-Mile Tour: 8:30 am – 9:00 am
• 20-Mile Bike & Hike Tour: 9:00 am – 9:30 am
* 6 Mile Beginner Mtn Bike Ride: 9:30am
• 11-Mile Family / Beginner Fun Ride: 9:30 am –10:00 am
Support:
Tour of the Carson Valley is a fully supported bicycle tour that includes Rest Stops with food/snack & beverage on course, Technical Support on course and SAG Support should one require vehicle transport back to the finish. SAG support may be limited to course sweep. Tour of the Carson Valley is produced by TGFT Productions / Bike the West, one of the most experienced bicycling event production companies in the country that has been producing quality bicycling events in Nevada and the surrounding Lake Tahoe area since 1984.
Please "Like" our Bike the West Facebook Page for updated information: www.facebook.com/bikelaketahoe.
After Ride:
Enjoy a relaxing afternoon socializing with other bicyclists at Mormon Station State Park and a Barbecued Chicken Lunch served from 11:30 am till 2:00 pm Co-Sponsored by Tahoe Ridge Winery/Market Place & Bistro. Cool down with Ice Cream provided by the Hoch Family Creamery and enjoy Live Entertainment provided by "A CLASS ACT." This is all included in your registration fees. Explore the Historic artifacts at Mormon Station or the Historic Genoa Courthouse Museum. Enjoy a cold one at the Genoa Bar, Nevada's first bar. Visit the many Antique and Gift Shops, the Genoa Candy & Coffee Co. or the Genoa Country Store. Relax and soak at David Walley's Hot Springs Resort, or play a round of golf at Genoa Lakes Golf Club / Resort. Horseback and Carriage rides are also available at the Pony Express Stables.
Lodging:
Spend a weekend or an entire week in the Beautiful Carson Valley: go to www.visitcarsonvalley.org for the variety of Bed & Breakfasts, Motels and Resorts in Genoa.
Holiday Inn Express:
(775) 782-7500
carsonvalleyhotel.com
Genoa Country Inn:
(775) 782-4500
genoacountryinn.com
1862 David Walley's Hot Springs Resort & Spa:
(775) 782-8155
davidwalleys.com
Carson Valley Inn Hotel Casino / Carson Valley Motor Lodge / Carson Valley R.V. Resort:
(775) 782-9711 & (800) 321-6983
cvinn.com
Quality Inn & Suites Minden:
(775) 782-7766
qualityinn.com
Historian Inn (877) 783-9910 or (775) 783-1175
HistorianInn.com




For more lodging options please contact the Carson Valley Chamber of Commerce and Visitors Authority at: (775) 782-8144 or (800) 727-7677 Or, visit: visitcarsonvalley.org