Bicycle Equipment Policy: Our rides are intended for, and limited to, standard traditional "safety"-style (and/or recumbent) 2-wheel, single rider (or 2-person tandem) bicycles which are human pedaled; due to safety concerns (including safety concerns on sections of extremely narrow roadways with no shoulder, and other safety issues), and limitations on our ability to provide SAG and technical support for other types of cycle equipment, we do not permit the use of non-standard cycle equipment on our rides without prior written special authorization and we reserve the right to prohibit the use of any cycle equipment at an event which we, in our sole discretion, deem not to be safe and/or appropriate for use at the event; the decision of the Event Director (or his/her designated representative) shall be final as to any such prohibition.
E-Bikes: Only Pedal Assist E-Bikes are allowed (No Throttle Controls) and must conform to normal road bike and, or mountain bike equipment specifications. Quick release Front Wheels to be able to mount on standard roof racks with front fork and rear wheel tray mounts. You may be requested to lift your E-Bike to mount on roof rack… You must have enough battery life to complete your ride option distance, Or you must carry your own additional battery(s) as private sag vehicles are prohibited and not allow in rest stop areas and there are no recharging facilities at rest stops… Be Aware if you experience a mechanical or electrical issue, our course tech support mechanics may not be able to service or repair your equipment and if you require a SAG Vehicle transport, your request may be subject to delay in providing a proper vehicle for Sag transport.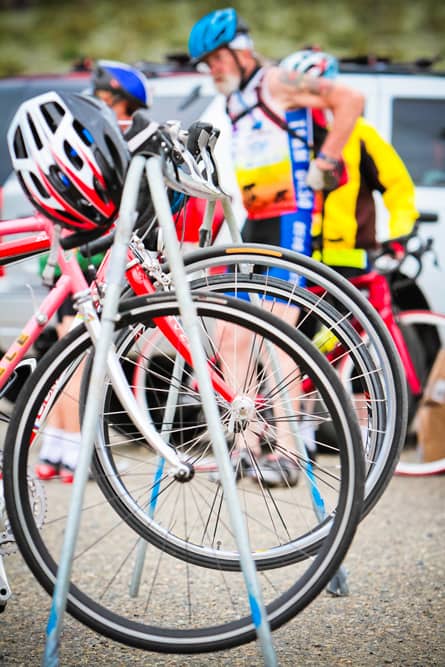 SAG transport support is limited to bicycles which can be mounted in the normal manner on a standard Yakima/Thule fork-mount type roof-top bicycle carrier; any riders requiring SAG support whose cycle equipment is too heavy to be easily placed on a roof-top rack by our support personnel and/or cannot be mounted in the normal manner on such racks will be required to arrange for and provide on-course storage/safe-keeping and/or SAG transport of their cycle equipment at their own expense (however, please note that on-course private support vehicles are not permitted during the event).
Our cycle equipment policy is much more liberal than the policies in effect for bicycle racing type events, but because of the relatively narrow and crowded (both motor vehicles and other cyclists) roadways, and narrow bike paths, available for the ride, safety and logistical concerns dictate that we must limit the bicycles participating in our events to those standard bicycle types which, in our experience, have been generally demonstrated to be able to ride together in "pack"-type conditions on narrow and crowded roadways and bike paths without undue interaction problems between the varying equipment types; extraordinarily wide, long, heavy, and/or "low-slung", cycles, "assisted" cycles, and all other non-standard type cycle equipment, including (but not limited to) trailers, side-by-side tandems, tricycles, "tag-along" (Alley Cat) type child devices, mopeds, and electric-assist (or other motor type assist) devices, are therefore not permitted to participate in our rides without prior written authorization from the Event Director.
Any prospective participant whose intended cycle equipment may not fit within our allowed equipment policy requirements must contact the Event Director prior to registering for the event to request written authorization to ride the proposed cycle equipment; please note that such authorization will generally be denied although we will try to accommodate persons with documented special needs (such as disabilities) if it can reasonably be done,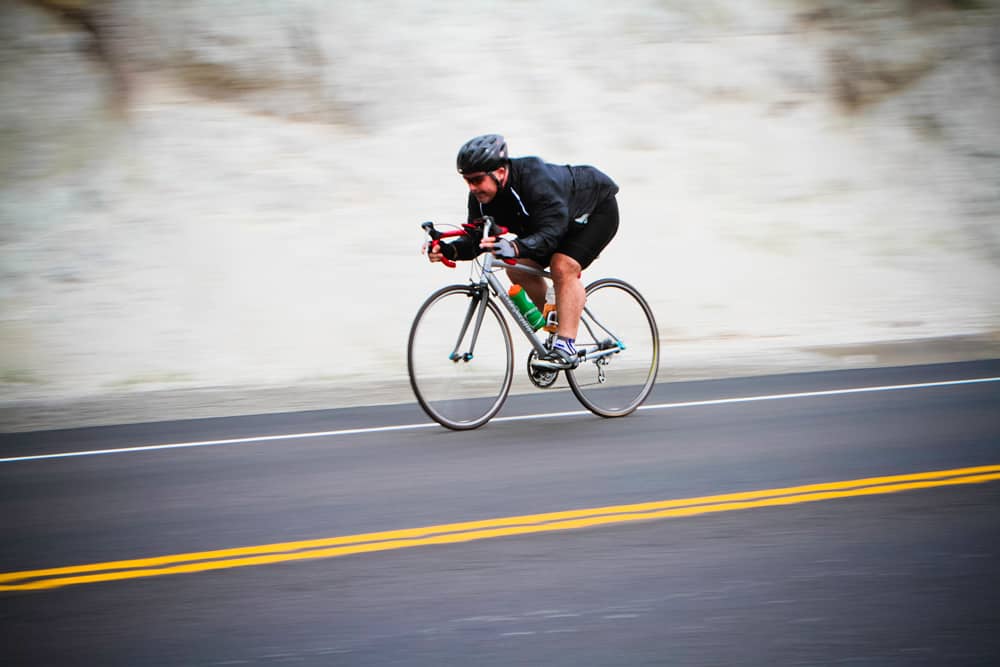 but any such authorization and/or accommodation may be subject to such special conditions as the Event Director may deem necessary for the safety of the rider and/or other riders, or for other reasons.
Any authorization to use any cycle equipment during a cycling event may be withdrawn and rescinded at any time, including during the event, and without any prior notice, if it appears that use of the cycle equipment at the event is a safety or logistical concern to the event.